Hybrid event, one of the biggest trends in the event industry. The best of two worlds coming together. The atmosphere and meeting each at live events. But also the big reach and many possibilities of an online event. When we say 'hybrid event' we mean a physical gathering where a live audience, but also an online audience, is participating. Which basically means any event can be transformed into a hybrid event!

Hybrid event offer the opportunity to extend your audience simnifically. International guest don't have to make expensive and long trips that harm the environment, but can easily participate online. This also creates the opportunity to invite people to specific parts of the event that are relevant for them. This means that both the online and physical visitor will have a dynamic and interactive experience.
We will make sure the the physical and online visitor have a dynamic and interactive experience.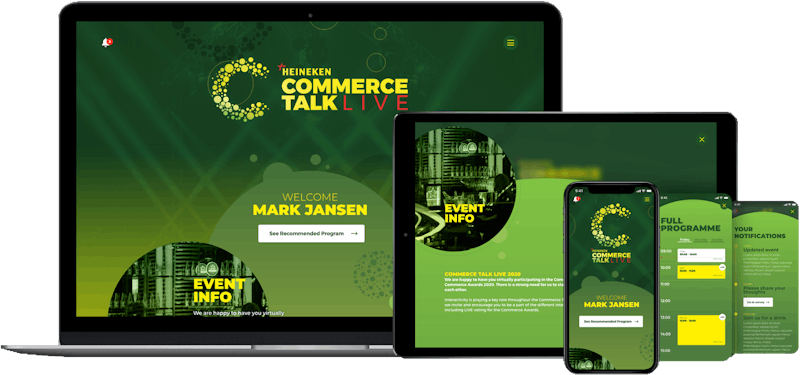 Online Event Platform
With the help of our online event platform reply.live both visitors are guided through al phases with ease. They'll receive a personal invitation and are directed to their personalised platform where they will be in contact during the the entire event.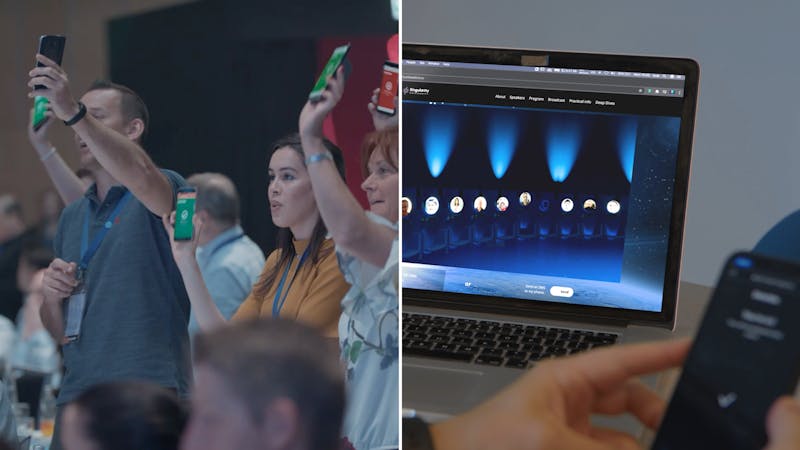 Interaction
We can't stress this enough: interaction & involvement are essential for events. For both the physical and online visitor interaction is possible. During the event the physical visitor will view the event live, but will interact with their smartphone. The online visitor will watch the livestream from their computer or laptop and can interact with their smartphone or computer. In case of hybrid events wille ensure both visitors are involved!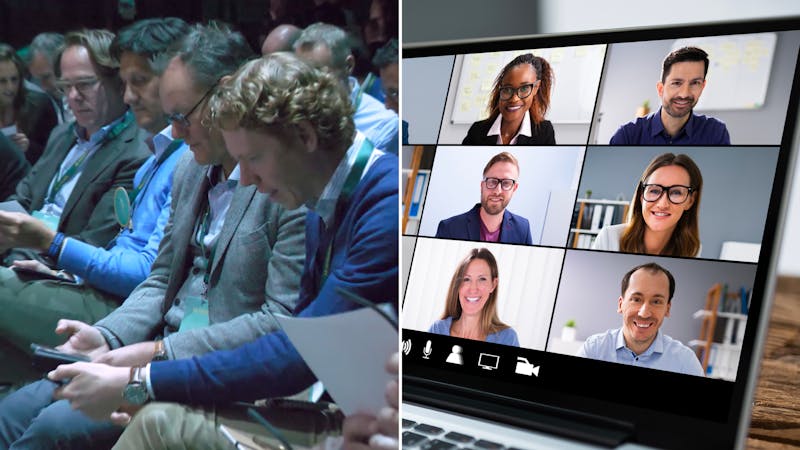 Breakouts
A dynamic program is of great importance for an online event. We have the attention span of about 20 minutes when listening to someone before losing interest. So we highly recommend dividing your event into plenary and non-plenary parts. This also possible with hybrid events. Visitors are divided into physical area's within the event venue. The online visitors are divided into digital break-out rooms. Both visitors are able to have smaller group discussions, participate in workshops or follow non-plenary parts of the event.
Hybrid events bring you the best of both worlds
The advantages of hybrid events:
Endless amount of visitors. By live-streaming an event your audience will grow and you'll be able to reach more people.
Unique experience. For both the physical and online visitor it will be a unique experience.
Good for the environment. There will be less need to travel by car or plane to be present at an event. Good for our earth and your wallet!
So hybrid events have many advantages! But remember: a successful hybrid event is much more than just a livestream. It takes effort to keep your audience entertained and involved during the entire event. Besides that equipment plays an important role. On both fronts we offer full service and support, making sure your event is great succes.